Genre:
Brunette
,
Big Tits
,
Hardcore
,
Anal
, Natural Tits, Small Tits,
Anal
Fingering, Fingering, Tattoos, Strap-On,
Toys
,
Hairy
, Lesbian,
Anal
Fisting
, Doggy Style
Video Description:
For two exes that have broken up countless times, April Olsen and Jane Wilde can't seem to get enough of each other. But not in a romantic, lovey-dovey way... No, what these two exes are into is wild, rough, and sensual sex. It's the kind of sex most couples would perhaps be too wary to try, but hey, April and Jane aren't a couple anymore, so there's nothing stopping them from indulging their most perverse sexual cravings when the mood calls.
They stumble into a bedroom, locked in each other's arms and making out hard. Their tongues collide as they strip their clothes off, revealing their full, plump breasts. They start breast-slapping each other, getting their tits nice and hard for each other's mouths to suckle on. They spread their legs for each other, letting their pussies get licked and then roughly fingered as they moan with pleasure.
April takes out a strap-on and clasps it to her hips, getting the shaft nice and wet with her spit. Jane's on all-fours, her ass ready for April to pound it. They have
anal
strap-on sex, loving every second of it. And then, it's April's turn to have her ass filled. But not with a
toy
... with Jane's fist. She shoves it into April's tight asshole, and then April returns the favor soon after
Genre:
BDSM
,
Bondage
, Lesbian,
Anal
,
Anal
Fisting
,
Anal
Fingering, Strap-on,
Dildo
, LezDom, Ass Licking, Rimming, Ball Gag,
Anal
Stretching, Speculum, Stockings
Video Description:
Nicole Aria is naked and trapped in a tiny suspended cage with a ball gag in her mouth. Her legs and arms are secured with rope and her asshole and pussy are accessible through a hole in the bottom of the cage. Victoria Voxxx steps in and inspects her caged bird, and makes her tweet though her ball gag. She flogs Nicole through the cage and then takes a look underneath. She shoves her fingers inside Nicole's asshole, and then a huge
dildo
and fucks her deep with it. She makes her cum with a vibrator and then lets her out, only to tie her up again. This time Nicole is on a padded device, doggy style with her hands tied behind her back. Victoria spreads and licks her asshole, bites on her toes, and then shoves a metal cage inside Nicole's asshole, leaving it wide open. After that, Victoria rams her fist inside Nicole's ass and fist-fucks her hard. In the last scene, Nicole's wrists are tied to her ankles leaving her spread-eagle on her back. Victoria fucks her with a strap-on and a dick-on-a-stick at the same time, double-penetrating Nicole's asshole right before fist-fucking her one last time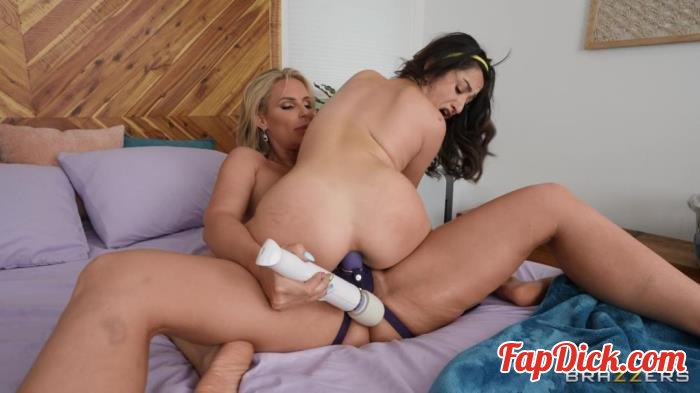 Genre:
Lesbian,
Anal
,
Anal
Fisting
, Strap-on,
Dildo
, LezDom, Ass Licking, Rimming,
BDSM
,
Bondage
,
Anal
Fingering, Vibrator, Stockings, Fishnet, Caning
Video Description:
Brooklyn is standing in a stockade predicament. Vanessa walks in with a cane and strikes Brooklyn while verbally humiliating them. Brooklyn gets bratty and combative but starts behaving once they feel Vanessa's fingers and tongue inside. After sufficient stretching, Brooklyn is ready for a nice, thick
dildo
in their ass. Then Brooklyn is tied, bent over, legs spread open with a bar and arms pulled back. Vanessa fucks their ass hard with her big strap-on cock and delivers ass-to-mouth and breath play. Then Brooklyn gets a vibrator on their clit while Vanessa licks and fucks their ass. Finally Vanessa and Brooklyn are together on a bed and Brooklyn gets their ass opened wide by Vanessa's fingers and a big glass pillar. Now it's time for the favor to be returned. Brooklyn
toys
with Vanessa's asshole using a big plug, eventually working up to
fisting
Vanessa until she cums
Genre:
FEMDOM
, REDHEAD, MASKED SLAVE,
MILF
,
BDSM
, BOOT
FETISH
, HIGH HEELS, STILETTOS, PEGGING,
STRAPON
, STRAP-ON, ASSFUCKING, ASS FUCKING,
ANAL
FUCKING
Video Description:
I walk in to see my naked little slut awaiting further training with his ankles in a spreader bar and his butt hole plugged! I had him quickly sucking at my stiff strap on whilst teasing him with an
anal
hook! Once inserted into his tight pussy hole I was able to have him suck my cock with a simple tug of his lead! Complete responsive obedience! But my cock was not the only thing I wanted him sucking! My alpha with a massive dick was just behind the door so I beckoned him in and watched as he thrust his boner straight into my sluts mouth! My slut being made to deep throat his cock for us whilst gagging and spluttering ha! With his butthole perfectly poised I was able to rail him from behind whilst he continued to pleasure my well hung alpha. His butt hole training was about to reach the next level as the alpha arose from his throne and stretched him wide open from behind! Using him like a little fuck
toy
he pounded his back passage hard and fast! Our slut was exhausted...a victim of a severe spit roasting, cocking sucking and butt fucking! But there was still one thing left to do! Collect my alphas load in his mouth! Over the course of twenty minutes, he was rather blue balled, but thankfully this little cum guzzler didn't let us down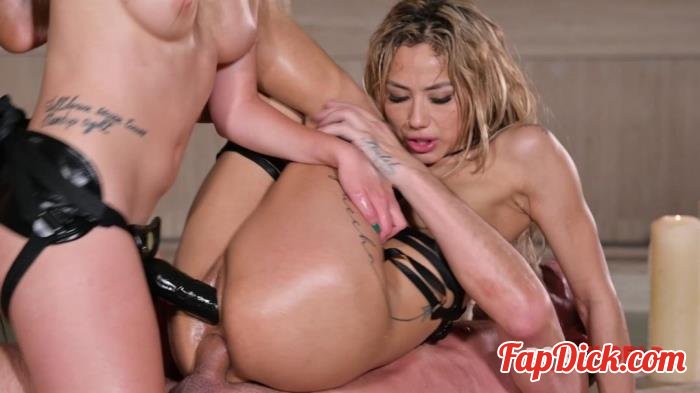 Genre:
Lesbian,
Anal
, Strap-on,
Dildo
, LezDom, Ass Licking, Rimming, Stockings,
BDSM
,
Bondage
, Pussy Licking, Buttplug, Foot Licking, Fingering,
Fisting
Video Description:
Nicole Aria is bound and displayed upright, with her full body available to sexy German dominatrix Texas Patti. Nicole's nipples are tormented before she is spanked and gagged with her own panties. Patti teases Nicole's asshole, spitting on it and fingering it before opening it up with a big black butt plug. Nicole sits wearing a collar, ready for her mistress to use her ass some more. Pattie enters, kissing and caressing her submissive before commanding her to get on her knees and suck a strap-on. It needs to be wet before Patti rams Nicole's hole with it. Nicole is still wearing the plug from earlier so her ass stays open and ready. Patti plows Nicole's ass with her big strap-on until Nicole has an orgasm. Now Nicole takes her mistress's high heels off and licks her soles and stockings, worshipping Patti's feet. Patti commands Nicole to eat her pussy until Patti also has an orgasm. Then Nicole tongue-fucks Patti's asshole before shoving a huge
dildo
inside. Nicole
toys
Patti's ass until her mistress cums hard
Genre:
Lesbian,
Anal
,
Anal
Fingering, Strap-on,
Dildo
, LezDom, Ass Licking, Rimming, Stockings, Vibrator,
Fisting
Video Description:
Victoria Voxxx manhandles submissive Summer Col and lures her into ass worshiping. Victoria instructs her obedient slut on the proper way to finger her mistress's asshole. Summer is eager to learn and obey. Then Victoria opens Summer's ass with a glass
toy
and plenty of fingers. Summer is granted permission to cum multiple times with the Hitachi while getting her ass fucked with the strap-on. Then Summer tongue-fucks Victoria's ass again opening it up with her fingers before she puts a big
dildo
inside. Victoria finishes by taking a huge glass cylinder in her asshole. And still she wants more
Genre:
FEMDOM
, FORCED
HANDJOB
, MILKING, HARD
STRAPON
, STRAP-ON, ASS FUCKING,
ANAL
FUCKING, PEGGING, THEENGLISHMANSION, TEM, RUINED ORGASM,
CUMSHOT
Video Description:
Strict lady boss Terra decides to give her new employee some special training and show what is expected of males in this gynarchy focused company. She embarrasses him and focuses on his love of stockings and high heels, he is soon at her feet, kissing and licking her stilettos as she tells him exactly what to do. He is told if he wants to keep his job he must strip out of his suit, he is shocked but agrees as she tells him about CFNM, as he tries to cover his cock. Her next power move is to show him her big
strapon
dick, she grabs his head and thrusts it into his mouth, dominating and humiliating him before throwing him over the desk and ramming the big dick into his asshole. He moans with the new found pleasure and it isn't long before she makes him shoot his cum over his own face, another one of her male employees broken to her will.
Genre: Strap-On,Female Domination, Pegging ,Ariana Marie