Tags:
AsianCandyPop
,
2013
,
SD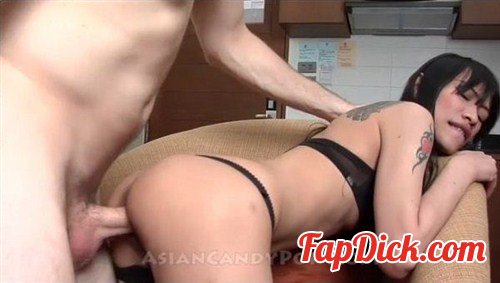 Geek was stumbled on in the Agogo bars of Nana. A nice small package with all kinds of naughty written all over it. The way she flirted with the audience and any interested man that caught her attention. I knew she would be of great quality if I got her to do it. I called her down, explained the situation and her eyes lit up, "I get to make movie!". Soon the Barfine was paid and we were off. Once back in the room she was very cooperative helping to pick the clothes as if she was the director. When the camera stills started she poised like a natural and she hammed it up for the video camera as well. She exuded a full range of expressions that is very rare for a Thai girl without asking them to. During shooting while I threw my dick into her and plunged her inner depths she had one of those pussies that grips your cock and moves in and out while you're watching. That's uncommon and sure is a visual treat when you capture it correctly. About mid-shoot we heard a walkie-talkie in the hallway. We immediately dimmed the lights and scrambled to the door to listen to who might be out there. The cameraman went out to investigate after a minute. While we were waiting Geek and I looked and each other like ,"if we're going to in trouble for this we might as well go out with a bang". On the couch she climbed on my turgid member and started riding me like she meant it, with a renewed fury as if something had switched her into overdrive. I picked this small package up onto the kitchen counter and start ramming her. She was horny as hell now and I was getting close to cumming so I started to slow down and her pussy got real wet. I was afraid I might have cum a little inside her but then she looked at me gazing at all the juices emerging from her pussy and said ,"I just cum". The horny little bitch was turned on by the danger of having somebody bust down the door looking for us. Her pussy juices dribbled down the front side of the kitchen cabinets which I didn't notice at the time but a week after the fact when I was wondering what that stain was down the front of the kitchen. My camera man came back soon after to report that it was probably just hotel security making their nightly rounds. We tried a little
anal
as Geek was up for it, but she was not ready for the full plunging that makes the scene exciting so I had to back out. I continued maneuvering this young spinner in all sorts of positions as her 90lb body would allow. I finished off in her mouth and she was spent. I think her cumming during our clandestine fuck had really drained her. That was a wrap but I knew she would be gracing our set in the not too distant future. You don't let a natural like this go to waste if you know what's good for you.
Starring actress:
Geek
Original title clip:
Geek in Asian Candy Pop
Year clip:
2013
Pay site:
AsianCandyPop.com
Clip genres:
All Sex, Asian,
Blowjob
,
Brunette
, Gonzo, Facial,
Hardcore
Duration:
00:16:40
Video Quality:
SD
Video:
mp4, MPEG4/AVC Video 848x480 59,940fps 2000Kbps
Audio:
AAC Audio 2ch 48,0Khz 192Kbps
Size file:
262 MB
Download AsianCandyPop.com - Geek - Geek in Asian Candy Pop [SD]
Information
Users of Guests are not allowed to comment this publication.